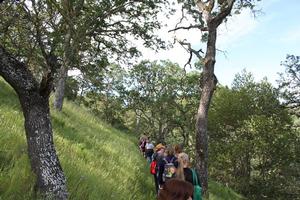 Mt. Wanda Comprehensive Site Management Plan


Most of the Mt. Wanda unit became part of the park in 1991. In 2016, a 3.8-acre parcel in the Mt. Wanda unit at Strentzel Meadow, formerly known as the Strain Ranch, came under NPS management with the expiration of a Strain family lease. The transfer of the Strentzel Meadow parcel provides the park an opportunity to explore new visitor amenities at Mt. Wanda to better support the park's purpose. Additionally, Congress recently authorized NPS acquisition of a 44-acre parcel purchased by the John Muir Land Trust (referred to as the West Hills Farm) adjacent to Mt. Wanda. This would further expand opportunities at Mt. Wanda. The plan for Mt. Wanda will identify visitor opportunities and functions, facility needs, resource management concerns, and address connectivity of Mt. Wanda to other areas of the park and the broader community.

Thank you to those that provided comments on the preliminary concepts for the Mt. Wanda Plan in 2017. Due to unanticipated staffing changes, the project was temporarily put on hold through 2018 and 2019. The NPS is now reengaged in data collection necessary to responsibly develop management alternatives and analyze potential impacts. The NPS expects to complete data collection and develop a proposed action later in 2020 and will then initiate the formal National Environmental Policy Act (NEPA) process. At that time, the public will be invited to comment on the proposed action and help guide the development of alternatives.

We look forward to hearing from you! Your participation is a key component of this
process.


Contact Information
Trevor Rice
Park Planner
510-232-5050, ext. 6632



The National Park Service (NPS) is conducting a comprehensive site management plan for the Mt. Wanda unit of John Muir National Historic Site. The 330-acre area of the park is an important part of the ranch where John Muir lived. Prior to Muir's time, the site was owned by Ygnacio Martinez as part of the Mexican era Rancho El Pinole, and earlier was home to the Karkin Ohlone Indians. At Mt. Wanda, visitors can walk in John Muir's footsteps as they explore, research, and appreciate the wildness of this inspirational landscape.