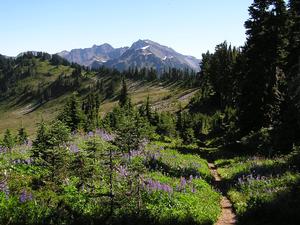 Olympic National Park Wilderness Stewardship Plan
Dear Friends and Neighbors,

The Olympic Wilderness was established by Congress on November 16, 1988. This outstanding resource is one of the most diverse wilderness areas in the United States. The Olympic Wilderness is made up of the rugged Olympic Mountains, temperate rainforest valleys, and wild coastline, including beaches, tide pools and coastal rainforest. Olympic is also one of the most popular wilderness destinations in North America, with nearly 40,000 overnight wilderness visitors each year.

The National Park Service (NPS) is preparing a Wilderness Stewardship Plan (WSP)/Environmental Impact Statement (EIS) for Olympic National Park. Last spring we completed public scoping for the plan. We received 269 correspondences that contained a wide range of concerns, and suggestions for how the Olympic Wilderness should be managed in the future. In response, we developed a range of preliminary draft alternatives. The alternatives were designed to reflect the key topics raised by the public during the public scoping process.

We are asking for your assistance again. Please take a moment to read this letter, which provides a summary of the alternatives, and make sure to review the detailed description of each of the preliminary draft alternatives and zones provided here on the planning website. Your review and comment at this key stage of the planning process will ensure that we are developing the best possible future for the Olympic Wilderness. Moreover, we want to ensure that we have accurately heard and addressed your comments as we move forward in developing the plan.

You have a variety of options for providing us with your comments. You may submit your comment here, mail your comment to the address provided, or attend one of a series of public meetings in late March and early April. We will be accepting comments through May 17, 2014.

Following this review, we will refine the alternatives, select or develop a preferred alternative, and complete the required environmental analysis, at which time additional opportunities will be provided for public involvement on the draft WSP/EIS.

We understand that your time is valuable and we appreciate your assistance. I look forward to hearing your thoughts and suggestions on these preliminary draft alternatives.


Sincerely,

Sarah Creachbaum, Superintendent
Olympic National Park

Contact Information
For more information contact the Olympic National Park superintendent's office at 360-565-3004.