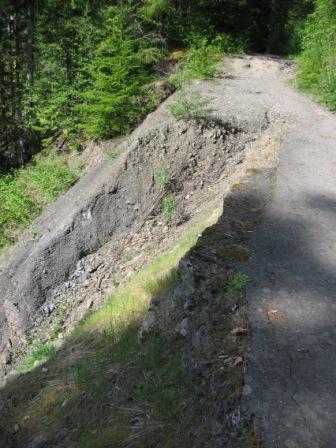 Boulder Creek Trail and Campground Rehabilitation


An environmental assessment (EA) was prepared in accordance with the National Environmental Policy Act (NEPA).

The road, which was used to access the former Olympic Hot Springs Resort and automobile campground, has been closed to vehicular traffic since 1982 due to slope failure and serious erosion. The Boulder Creek Trail is a popular trail and destination for day hikers and overnight users year-round. Stock users also frequent the trail, although it has become more difficult for them to pass as the trail deteriorates.

At present, the first 2.2 mile stretch of asphalt crosses several drainages where culverts have been washed out or plugged with debris. There are several sections of the trail where creek drainages have washed away sections of asphalt and deposited gravel.

The Boulder Creek Campground, located at the end of the asphalt stretch, has been identified as potential wilderness. In its current state, park resources are at risk from users trampling vegetation, unplanned campsite development, and high trash levels.

The NPS proposes to rehabilitate the Boulder Creek Trail for use as a foot and stock trail by removing the deteriorating asphalt from the road surface, removing culverts, and constructing bridges or replacing culverts. The proposal also includes the rehabilitation of the Boulder Creek Campground in an effort to prevent harm to the park's resources by removing the asphalt, designating campsites, and revegetating the areas around campsites.

The National Park Service has selected a modified version of Alternative 4: Provide Enhanced Visitor Services - Active Revegetation. The selected action is described in the Finding of No Significant Impact (FONSI), which was signed by the National Park Service Pacific West Regional Director on January 15, 2010.



Contact Information
Superintendent, Olympic National Park
Attn: Boulder Creek EA
600 East Park Ave
Port Angeles, WA 98362



This project is part of the American Recovery and Reinvestment Act of 2009. The National Park Service (NPS) is proposing to decommission the 2.2-mile asphalt stretch of Boulder Creek Trail, including improving and removing stream crossings and asphalt, and restoring and rehabilitating the Boulder Creek campground.