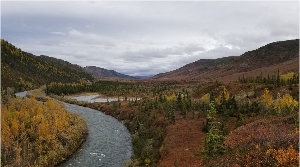 Wonder Lake and Kantishna Area Plan (non-NEPA)


In addition to what is in previous plans, this document also provides a range of proposals that include a day use area in the Wonder Lake area, group camping opportunities at the Wonder Lake campground, a local transportation system between the Kantishna and Wonder Lake areas, new administrative sites, and setting visitor capacities.

The trail system could include up to 80 miles of trails that are specifically introduced in previous planning documents, connect historic mining routes in backcountry units 41-43, address resource damage issues, formalize existing informal trails, improve visitor flow, and/or provide a desired visitor experience.

A walk-in/bike-in roadside campground with up to 10 sites could be constructed and made available to independent and commercial users in Kantishna as an option for backpackers and campers looking to access the backcountry from this area. This campground could include a food locker, cook shelter, and vault toilet similar to other roadside campgrounds in the park. In addition to, or instead of, a campground in Kantishna, NPS is considering offering group camping and additional campsites for independent use at the Wonder Lake Campground.

If constructed, backcountry campsites (no more than five locations with 3 tent pads each) would have food storage, outhouse, and cooking and eating areas established.

A hostel could support independent and commercial groups and most likely be co-located with the campground if it is constructed in Kantishna.

The day use area in Wonder Lake could provide facilities to meet the desired experience for day users in the area.

Any constructed trailheads would be minimal in nature, but would provide informational signage about trails, hazards, and cultural resources.

A transportation system could allow visitors or staff to move more easily between the Wonder Lake and Kantishna areas of the park and would connect visitor nodes, trailheads and a small bus depot.

Setting visitor capacities could allow the park to encourage recreational use of the area while maintaining desired conditions.

The Friday Creek administrative site could be rehabilitated, and the Dalle-Molleville administrative site could be rehabilitated or re-purposed for a small transit depot. Newly proposed administrative sites would allow NPS to consolidate the administrative footprint and provide for housing, office, and storage needs for current and potential futures use.

Following public feedback on a range of proposals, NPS will complete wetland and cultural surveys, an operating cost analysis, and a visitor capacity study to refine alternatives. A draft plan and compliance document will be released for further public comment.


Contact Information
Emily Buhr
(907) 683-6242



This document offers a range of proposals for public feedback as the park explores the possibility of a trail system, trailheads, backcountry campsites, a roadside bike in/hike in campground, and a hostel as proposed in earlier plans. The 1997 Entrance Area Development Concept Plan and EIS, and the 2006 Backcountry Management Plan and EIS reference the Wonder Lake and Kantishna as areas that could support additional recreational opportunities.