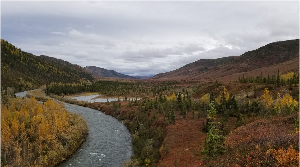 Kantishna and Wonder Lake Area Plan: Range of Proposals for Public Feedback
This document offers a range of proposals for public feedback as the park explores the possibility of a trail system, trailheads, backcountry campsites, a roadside bike in/hike in campground, and a hostel as proposed in earlier plans. The 1997 Entrance Area Development Concept Plan and EIS, and the 2006 Backcountry Management Plan and EIS reference the Wonder Lake and Kantishna as areas that could support additional recreational opportunities.
In addition to what is in previous plans, this document also provides a range of proposals that include a day use area in the Wonder Lake area, group camping opportunities at the Wonder Lake campground, a local transportation system between the Kantishna and Wonder Lake areas, new administrative sites, and setting visitor capacities.
Following public feedback on a range of proposals, NPS will complete wetland and cultural surveys, an operating cost analysis, and a visitor capacity study to refine alternatives. A draft plan and compliance document will be released for further public comment.
Public comments will be accepted through the PEPC site or by mail to:
Denali Planning Office
PO Box 9
Denali Park, AK 99755
Suggestions for feedback:
"[S]ubstantive comments raise, debate, or question a point of fact or analysis. Comments that merely support or oppose a proposal or that merely agree or disagree with NPS policy are not considered substantive..."
Are our assumptions and facts correct? Detail is helpful.
Are there areas of analysis not mentioned that need to be considered in a future compliance document?
Is there a concept/alternative that hasn't been proposed that should be considered?
Be specific in your reasons to continue or not continue analysis of proposals.
Have you experienced any "near misses" walking on the park road or on informal trails that you can share?
How should the park manage its informal trails?
UPDATES
Please note the reference used for social science data has been updated.
Information with the reference of "Keller, R. 2018. Working Draft Backcountry Indicators of Visitor Experience in Denali National Park and Preserve: Backpackers, Natural Resources Report NPS/XXXX/NRR- -20XX/XXXX, National Park Service, Fort Collins, Colorado"
now has a final report reference of
"Keller R and Toubman J. 2019. Backcountry Management Plan Indicator Reports by Management Area and Backcountry Unit in Denali National Park and Preserve, 2017-2018. National Park Service. DENA"
Links to this plan and other social science reports related to Kantishna can be found on IRMA:
Backcountry Management Plan Indicator Reports (has full report)
https://irma.nps.gov/DataStore/Reference/Profile/2266421
Backcountry Visitor Experience Survey Results
https://irma.nps.gov/DataStore/Reference/Profile/2266424
Comment Period:
Closed 08/05/2019 - 10/31/2019

Document Content:

Kantishna Area Plan Range of Proposals July 2019
(97.7 KB, PDF file)
Disclaimer:
Links within the above document(s) were valid as of the date published.
Note:
Some of the files may be in PDF format and can be viewed using the Adobe Acrobat Reader software. You may download a free copy of
Acrobat Reader
from Adobe Systems.