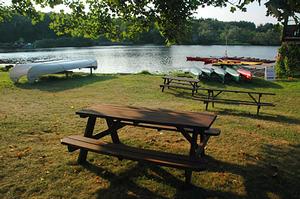 Final - Buzzard Point Development Concept Plan
The National Park Service's (NPS) National Capital Parks - East has released a final Development Concept Plan (DCP) for Buzzard Point Park that will provide the framework to re-develop this park as an enjoyable and unique urban park with a mix of active and passive recreational opportunities.
In March 2016, the NPS began seeking public input to gather ideas about how best to re-imagine Buzzard Point Park. This DCP represents the outcome of that process and incorporates public input and ideas into specific design concepts. This process identified multiple, exciting new opportunities for the re-development of this 3.5 acre site, including adding a connection to the Anacostia River Trail, greater access to the waterfront, and new recreational opportunities and amenities.
Drawing on the native marshlands historically located along the shoreline that provided stability and flood protection, the design concepts increase accessibility and transform the park into a peaceful retreat for recreation and relaxation. A common element in both design concepts is the desire to incorporate the partially completed Anacostia Riverwalk Trail into the new park. Concept 1 incorporates the trail section close to the shoreline surrounded by landscape features while Concept 2 places the trail out on the river on an elevated structure. Other design elements include uninterrupted access to the river's edge, a pedestrian promenade, a kayak launch, grass dunes and open lawn areas, and other park facilities such as restrooms. Both concepts also incorporate facilities for a pilot kayak share program and open spaces for a variety of play, education and interpretive opportunities.
What's Next? The DCP represents an early stage component of a larger planning and design process. NPS is preparing to initiate an Environmental Assessment that will comply with the National Environmental Policy Act (NEPA) and National Historic Preservation Act compliance (NHPA) in tandem with public engagement and agency coordination.

Document Content:

May 2017 - Final Buzzard Point Development Concept Plan
(10.2 MB, PDF file)
Disclaimer:
Links within the above document(s) were valid as of the date published.
Note:
Some of the files may be in PDF format and can be viewed using the Adobe Acrobat Reader software. You may download a free copy of
Acrobat Reader
from Adobe Systems.