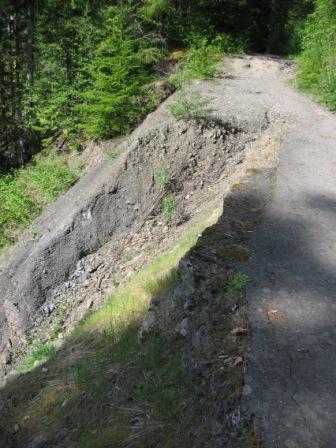 Boulder Creek Finding of No Significant Impact (FONSI)
The Boulder Creek Trail and Campground Rehabilitation Environmental Assessment (EA) has been completed and finalized with a Finding of No Significant Impact (FONSI). The FONSI and errata, combined with the EA provide a complete record of the environmental impact analysis and conservation planning for this project.
The EA analyzed four alternatives, including a no action alternative. The selected action is a modified Alternative 4. This alternative includes decommissioning the former Boulder Creek Road to improve access for hikers and stock users and improve protection of park resources. Key components of the project include removing asphalt from the old road, installing foot and stock animal bridges and improved stream crossings, reducing the width of the trail to between 24 and 30 inches, revegetating damaged campsites within the campground and improving vehicle access at the trailhead.
Sections of the Boulder Creek Trail and campground area will be closed to public access during the project. Most of the work will take place in 2011 and is scheduled to occur during removal of the Glines Canyon Dam in order to minimize the length of time that access must be restricted.
The Boulder Creek Road was built in the early 1900s and provided vehicle access to the former Olympic Hot Springs Resort and automobile campground. The road was closed to vehicle traffic and converted to trail use in 1982 because of slope failure and serious erosion. Since then, the Boulder Creek trail has remained a popular hiking route, both for visitors to the Olympic Hot Springs area and for more extensive wilderness hikes. Over time, the old road has deteriorated; several culverts have been washed out or plugged with debris.

Document Content:

Boulder Creek Finding of No Significant Impact (FONSI)
(672.4 KB, PDF file)
Disclaimer:
Links within the above document(s) were valid as of the date published.
Note:
Some of the files may be in PDF format and can be viewed using the Adobe Acrobat Reader software.
You may download a free copy of Acrobat Reader from Adobe Systems.