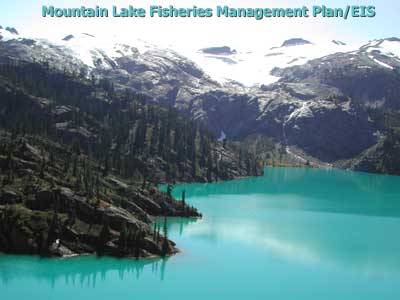 Final Mountain Lakes Fishery Management Plan/EIS
This link provides the following documents:
1. Executive Summary of the Final Plan
2. Volumes I and II of the Final Plan/EIS
3. The Public Comment/Response Report concerning comments received on the Draft Plan/DEIS (stand-alone version from Volume II of Final EIS)
Please note volumes I and II of the FEIS and the Public Comment/Response report are very large; you will need a fast internet connection for ease of downloading.
Printed copies of the complete set of documents (Executive Summary, Volumes I and II of Final EIS, and a CD) may be available upon request, although copies are limted. Please call Shelley Kluz, NPS Management Assistant at 360.854.7201.
Full copies of the document are also available for review at the Bellingham Public Library (Main Branch), Chelan Community Library, Mount Vernon City Library, and the Seattle Public Library. The documents are also available for review during regular business hours at the North Cascades Headquarters office in Sedro-Woolley, and at the National Park Service's Visitor Centers in Newhalem and Stehekin.
Comment Period:
Closed Jul 18, 2008 - Aug 18, 2008

Document Content: