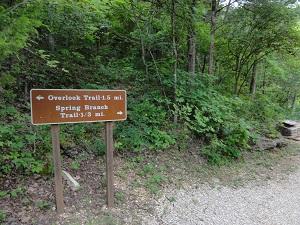 Ozark National Scenic Riverways Roads and Trails Plan - Preliminary Alternatives Newsletter
The Ozark National Scenic Riverways Roads and Trails Plan Preliminary Alternatives Newsletter provides information on the purpose and need for the Roads and Trails Management Plan, plan objectives, and highlights a range of alternatives that the park is currently considering. Please note: no draft management plan has been developed at this time. The newsletter (see link below) describes the preliminary draft alternatives in detail. In addition, the supporting maps highlight proposed designated road and trail alignments within the Riverways.
The three preliminary alternatives are consistent with management zoning and desired conditions outlined in the 2014 General Management Plan (GMP). The first alternative (Alternative A) is the "no action" alternative, which reflects a continuation of current management practices within the Riverways established in the GMP. The other two alternatives are the action alternatives. The action alternatives were developed based on public and stakeholder input and feedback, as well as NPS staff expertise. Each represents alternative approaches to roads and trails management throughout the Riverways and represents the diversity of suggestions received during the scoping process.
Please note that detailed mapping associated with each of the three alternatives is provided in both PDF map files noted below, as well as the interactive web mapping tool (click on "Links" at left, or see link below).
which allows users to turn on and off various map layers, zoom in to particular areas, and compare differences between each alternative.
Hard copies of the preliminary alternatives maps at park headquarters in Van Buren, and at the following libraries:
• Birch Tree City Library - Birch Tree, MO
• Carter County Public Library - Van Buren, MO
• Doniphan Public Library - Doniphan, MO
• Ellsinore Public Library - Ellsinore, MO
• Eminence Public Library - Eminence, MO
• Grandin Branch Library - Grandin, MO
• Mountain View Public Library - Mountain View, MO
• Reynolds County Library- Ellington, MO
• Rolla Public Library - Rolla, MO
• Salem Public Library - Salem, MO
• Poplar Bluff Public Library - Poplar Bluff, MO
• Texas County Library - Summersville, MO
• Winona Public Library - Winona, MO
Public comments are being solicited via this PEPC planning site. You can also mail your comments to the planning team at park headquarters -
Attn: Roads & Trails Planning Team
United States Department of the Interior
National Park Service
Ozark National Scenic Riverways
PO Box 490
Van Buren, Missouri 63965
Comments received will be analyzed to determine possible changes and help inform the selection of the National Park Service's preferred alternative. The preferred alternative will be presented for public review in the Draft Roads and Trails Management Plan and Environmental Assessment.
Comment Period:
Closed Nov 17, 2017 - Jan 15, 2018
Topic Questions:
1. Please feel free to share any thoughts or recommendations with the National Park Service regarding the preliminary draft alternatives in the comment area below.

Document Content: