Project Links
Share this on:
(non-NPS links)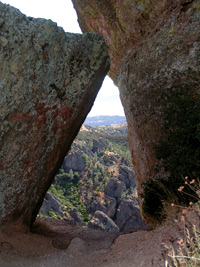 Pinnacles National Monument Draft General Management Plan and Environmental Assessment
When completed, the Pinnacles National Monument Draft General Management Plan and Environmental Assessment will guide management of the monument with a 15-20 year vision of its operation and protection. Please review the draft and provide us with any comments you may have. We thank you for taking the time to make this the best plan possible for such a special place. The comment period will extend through January 11, 2013.
Comment Period:
Closed 11/01/2012 - 01/11/2013
Topic Questions:
1. The National Park Service has selected Alternative D (Link People and Resources) as the Preferred Alternative. What are your thoughts about the preferred alternative?
2. Are there any other comments about the plan or the planning process that you would like to share?

Document Content: