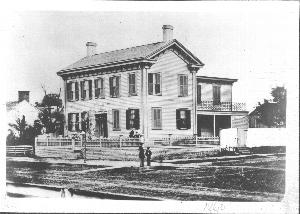 Remove large Elm tree and wooden cage in front of Lincoln Home and replace with small, slow-growing Elm tree.


For this replacement, the park will work with Morton Arboretum outside Chicago to acquire a slow-growing, disease-resistant Elm tree, possibly "Ulmus 'Frontier'". The park will also attempt to donate the larger tree to the city Park District to avoid disturbing ground in the park that has not had an archeological survey. Finally, the decision was made to not replace the wooden cage as it does not appear in historic photographs of the landscape. The larger tree will be removed in Autumn 2020, but the new tree may not be planted until the spring to ensure the optimal planting schedule.


Contact Information
Jason Taylor, 217-391-3235



The Lincolns planted an Elm tree in front of their Home in the late 1850s. It is prominent in campaign photos taken of the Home in 1860. The tree lasted until 1906 when a combination of Dutch Elm Disease and a lightening strike destroyed it. In 1988, a small Elm tree was replanted in the same location to help restore the historic landscape. To protect the young tree, a narrow wooden "cage" was installed around it. Since that time, when the tree gets too large for the location and blocks views of the Lincoln Home, it is replaced with a small, slow-growing Elm that is resistant to Dutch Elm Disease. The larger tree has usually been planted elsewhere in the park. The trees are replaced approximately every 7 years. The current tree was planted in 2013.