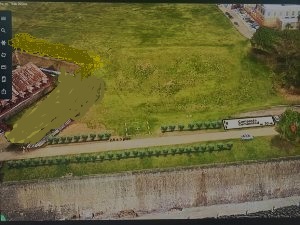 Public Comments on Parcel B Landscape Proposal/Propuesta parcela B

The planting of the sea grapes will address the community request for greener recreational space. The park will be using a professional landscaper to complete this project. In this area the Commonwealth will be able to handle the maintenance of plants and keep them on the recommended height. The compost box will be constructed and maintained by the community once this proposal is finalized.

El Servicio de Parques Nacionales y sus socios en el gobierno de Puerto Rico están solicitando comentarios sobre la propuesta para plantar árboles de uva playera en un área de la Parcela B, cerca del Polvorín de Santa Elena (ver imagen), en el Viejo San Juan, Puerto Rico. El proyecto consiste en plantar entre 100 y 150 árboles de uva marina (coccoloba uvifera) junto a la carretera de Santa Elena. Además, el plan incluirá una caja de composta para ser utilizada por la comunidad del Viejo San Juan.
La siembra de las uvas playeras busca responder a una solicitud de la comunidad por un espacio recreativo más verde. El parque utilizará un paisajista profesional para completar este proyecto. En esta área, el gobierno estatal podrá manejar el mantenimiento de las plantas y mantenerlas a la altura recomendada. La comunidad construirá y mantendrá la caja de composta una vez que se finalice esta propuesta.


Contact Information
Yanira Martinez, 787-729-6777



The National Park Service and its partners in the Commonwealth of Puerto Rico are seeking comments on the proposal for planting seagrape trees in an area of Parcel B, near the Polvorin de Santa Elena (Santa Elena Gunpowder Magazine), in Old San Juan, Puerto Rico. The project will entail planting between 100 and 150 seagrape trees (coccoloba uvifera) alongside the Santa Elena Road. Also, the plan will include a compost box to be used by the Community of Old San Juan.