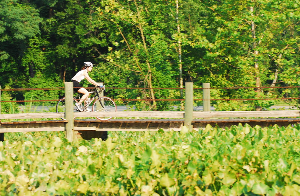 Mount Vernon Trail Corridor Study


The National Park Service has assessed the condition and safety of the 18-mile Mount Vernon Trail and developed a vision for improving the facility based on transportation industry best practices.

The NPS and its Partners have collected a significant amount of data on the condition, usage, crash and history along the Mount Vernon Trail. Internal and external stakeholder engagement, a review of existing conditions, and an assessment of the trail design resulted is a series of wide-ranging recommendations for:

- Trail signage
- Safety Improvements
- Trail connections
- Visitor counting programs
- Pavement and bridge maintenance and vegetation management

The Mount Vernon Trail has approximately 1 million users and annually and provides recreation and transportation connections to nationally and regionally significant destinations. The 18 mile paved trail stretches from George Washington's Mount Vernon estate to Theodore Roosevelt Island linking Fairfax County, the City of Alexandria, and Arlington County to the District of Columbia. It is the only trail connection between two major Potomac River Bridges and provides a critical link to regional trails, particularly Theodore Roosevelt Bridge, Four Mile Run, and Woodrow Wilson Bridge. Mount Vernon Trail is designated as a segment of both the Potomac Heritage National Scenic Trail and East Coast Greenway. If you have any questions please contact the park at GWMP_Superintendent@nps.gov.


Contact Information
Aaron LaRocca
Chief of Staff
George Washington Memorial Parkway
National Park Service
202-438-6619



This Mount Vernon Trail Corridor study is the first comprehensive analysis of data to inform park operations and maintenance needs and identify long-term capital Investments to improve the visitor experience