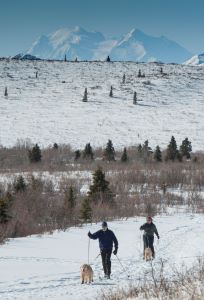 Denali Winter and Shoulder Season Visitor Services Environmental Assessment
Actions proposed in this environmental assessment (EA) are:
• Allow private vehicle access to the Denali Park Road (Park Road) west of Headquarters to the Teklanika rest area after the first winter weather event of the fall
• Plow a portion of the Park Road during winter months, up to approximately mile 12 beginning in February
• Install a seasonal footbridge near Mountain Vista to facilitate access to traditional winter routes
• Create a connector trail for mushing access at the Mountain Vista rest area
• Allow commercial guiding for non-motorized winter recreation in some areas of the Denali wilderness
• Groom trails in the park entrance area, and potential trails in the Nenana River area
• Allow concessioner transit and tour bus service starting May 10
• Allow parking on the Park Road west of the Savage River for private vehicles during the shoulder seasons
• Open the Savage River and Teklanika campgrounds earlier in the spring and later into the fall
• Install facilities at the Teklanika rest area including parking lines, signs, and informational kiosks
• Provide seasonally specific detail to established desired conditions
The purpose of the proposed actions is to equip the NPS to anticipate changes to winter and shoulder season visitation and more effectively manage visitor services and opportunities. Recent growth and diversification of off-season visitation necessitate a reexamination of the visitor experience offered in Denali during the winter and shoulder seasons, as well as the potential resource impacts from possible alterations to visitor services and facilities.
This EA is open for public comment June 1-30, 2020. Submit your comments using the menu on the left side of the screen. These menus will also take to you to copies of the document, links to useful websites, and other information that will help you as you read the EA and develop comments.
An informational webinar will be held June 11, 6pm Alaska Time. You can register for the webinar at
https://register.gotowebinar.com/register/2496809894324135947
The National Park Service (NPS) is considering implementing management decisions and constructing limited infrastructure to provide increased access and visitor opportunities in Denali National Park and Preserve (Denali) during the winter and shoulder seasons (approximately mid-September to mid-May).