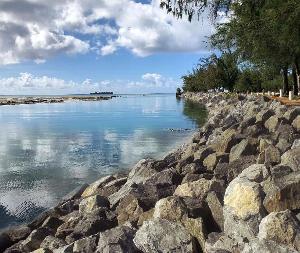 Repair Shoreline Barriers at Smiling Cove and Outer Cove


The NPS is currently preparing plans to repair the failing sections of the existing shoreline protection systems constructed over 30 years ago. The improvements include excavation of the failing stabilization systems; installation of an engineered rock revetment along the channel into Smiling Cove and at the end of the eastern causeway at Outer Cove; extension of the sidewalk along the Smiling Cove channel; and landscaping with native tree and shrub species. Installation of the new revetments will prevent further erosion of the shorelines and stabilize the roadway vital to user safety at the marinas. The proposed project is planned to begin in 2022. Access to the marinas is expected to remain open during construction, although there may be temporary closures or detours during construction.


Contact Information
Barbara Alberti
670-234-7207, ext. 2020



A series of storms have deteriorated sections of the shoreline at the Smiling Cove and Outer Cove Marinas at American Memorial Park. The National Park Service (NPS) is proposing repairs to protect the shorelines and roadways.