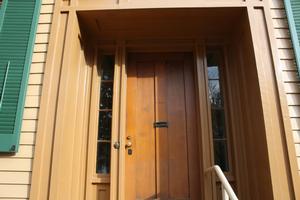 Replace parts of door frame around Lincoln Home front door and replace hinges


Because this will mean closing off the door for a few days, the new door frame, door and trim will be pre-fabricated as much as possible prior to installation. When working on the door, a temporary enclosure will be installed on both sides to minimize dust and weather from getting into the house and allow workers to work in somewhat colder weather during the slow visitation period.

The original door elements, if removed, will be added into the museum collection and the replacements will be branded "2018" on the back."


Contact Information
Eric Turner, 217-391-3230



The top hinges on the Lincoln Home front door continue to pull out of the wood due to the weight of the solid wooden door and the over 100 times a day the door is opened and closed. This project will require removing and replacing part of the potentially original door frame, the circa 1988 trim, and the hinges. Currently, the location of the hinges has the screws going in to the trim and the plaster, not a stud and the trim has deteriorated to the point that shims and dowels cannot be used to assist in holding the doors. The new jamb would be rabbited about 1 1/2" from the edge to allow for a thicker door (approximately 1 3/4" thick compared to the just over 1 3/8" door now) and would allow the hinges to be installed in such a way that the screws would go into the stud. The original wood was either black walnut or chestnut- -black walnut will be used for replacement. The three sets of hinges will also be replaced with standard hinges, not the current automatic closing hinges. The hinges are causing additional stress on the frame and are not necessary since Interpretive rangers and volunteers operate the door at all times and will be trained to make sure the door closes properly.