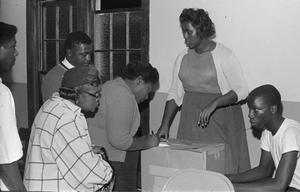 Mississippi Civil Rights Sites Special Resource Study


• The home in Jackson where civil rights activist Medgar Evers resided with his wife and was killed in 1963.
• Sites in the Mississippi Delta related to the lynching of 14-year-old Emmett Till on August 28, 1955, including Bryant's store and Tallahatchie County Courthouse.
• The Old Neshoba County jail in Philadelphia, Miss., where civil rights workers James Chaney, Andrew Goodman, and Michael Schwerner were held for a speeding violation prior to being released and murdered by a mob for registering black voters in 1964. The Reverends Martin Luther King Jr. and Ralph David Abernathy Sr. included the jail in a heralded voter registration march two years later.
• The Biloxi office of Dr. Gilbert Mason Sr. who was a principal organizer of "wade-ins" beginning in 1959 to desegregate Biloxi's public beaches. He also helped organize voter registration drives and led other civil rights initiatives for 33 years.

Other related sites in the state not specifically listed in the legislation may be identified and added to the list of potential study locations. Based on this legislated directive, the National Park Service is conducting a special resource study of nationally significant civil rights-related historic sites to determine the potential for the designation of a new national park unit in the state of Mississippi. The criteria used by the NPS to determine eligibility for establishment of a potential unit of the national park system include: national significance, suitability and feasibility of inclusion within the system, and the need for NPS management. Please use the "Links" tab on the left to find additional information on the criteria used to evaluate new national parklands.

The purpose of this special resource study is to gather information about the sites through historical research and public input and evaluate the sites' potential for inclusion into the NPS system. Six public open houses were held in May, 2018 throughout the state of Mississippi. To view the Public Scoping Report, please click on the "Public Documents" tab on the left side of this webpage.

Special resource studies can take place over a two-year period, depending on the findings. At the conclusion of the special resource study process, the NPS, through the Secretary of the Interior, will submit its findings to Congress. Congress will then determine whether the Mississippi Civil Rights Sites should be added to the national park system. New units of the national park system can only be established by an act of Congress or by Presidential Proclamation.

Thank you for taking the time to learn about and comment on this study effort.


Contact Information
Carrie Miller
(303) 969-2575



In 2017, the U.S. Congress passed a law directing NPS to conduct a special resource study of Mississippi's nationally significant civil rights sites, such as: