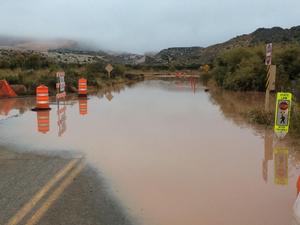 Salt Wash Project


The proposed project aims to reestablish the natural flow of water and sediment by removing non-native tamarisk and re-contouring the three washes with heavy equipment. Restoration of natural processes, removal of non-native species, ensuring access to park visitors to a popular park site, and creating a more sustainable and less reactive management approach to the area are anticipated results from this project.

This environmental assessment evaluates two alternatives: a no action alternative (alternative 1) and the proposed action to rehabilitate Salt Wash, Salt Valley Wash, and Winter Camp Wash (alternative 2). Implementation of the proposed action may result in impacts to hydrologic and geologic processes, non-native vegetation, park operations, soils, visitor experience, and wilderness character. Impacts to ethnographic resources will be determined through tribal consultation.

This environmental assessment has been prepared in accordance with the National Environmental Policy Act and its implementing regulations (40 CFR 1500-1508) and Director's Order 12: Conservation Planning, Environmental Impact Analysis, and Decision-making (NPS 2011) and its accompanying handbook (NPS 2015) to assess the alternatives and their impacts on the environment.



Contact Information
Planning and Compliance
National Park Service
2282 SW Resource Blvd
Moab, UT 84532
435-719-2103



The National Park Service is proposing to rehabilitate Salt Wash, Salt Valley Wash, and Winter Camp Wash in Arches National Park (the Park). The purpose of the Salt Wash Rehabilitation Project is to reestablish the natural flow to Salt Wash at its confluence with Salt Valley Wash and Winter Camp Wash in order to maintain access of Wolfe Ranch / Delicate Arch Viewpoint road for visitors and park staff. The current paved roadway, sediment deposition rates, and increase in non-native tamarisk within the washes have compromised the natural flow of storm-water runoff, resulting in frequent flooding and closures of the road.