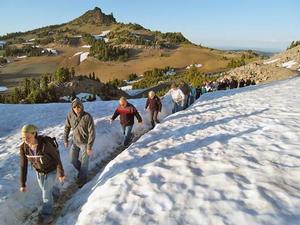 Trail Management Plan


Three alternatives were evaluated in the EA: the no-action alternative, alternative 1 (NPS-proposed action and preferred alternative) and alternative 2. The FONSI authorizes implementation of the preferred alternative, which includes construction of 20.6 miles of summer trails, designation of 10.4 miles of winter trails, and changes in use or designation for 8.95 miles of existing trail. The selected alternative meets the project purpose to provide high-quality nonmotorized recreational opportunities while preserving park resources.

The FONSI explains why the selected alternative (i.e., the proposed action and preferred alternative contained in the plan/EA) will have no significant effects on the natural or human environment. The FONSI is based on the EA, as well as the comments received from the public and interested parties, agencies, and staff during the public review period that concluded on October 21, 2021. The FONSI summarizes the public comments received, responds to those comments, and identifies changes to the text in the EA as a result of the comments. Implementation of the selected alternative will require further consultation under section 106 of the National Historic Preservation Act, and the National Park Service will continue to consult with the Oregon State Historic Preservation Office and affiliated tribes as needed throughout the phased section 106 process as described in the EA.

The National Park Service has determined that the proposed action is not likely to result in significant impacts on the human or natural environment. Therefore, an environmental impact statement will not be prepared and a FONSI has been issued. The plan/EA and FONSI are available for viewing online here on the NPS Planning, Environment, and Public Comment (PEPC) website.


Contact Information
Sean Denniston
Management Assistant
541-594-3008



The National Park Service (NPS) announces the availability of the Finding of No Significant Impact (FONSI) for the Crater Lake National Park Trail Management Plan/Environmental Assessment (plan/EA). The FONSI, signed by the regional director on April 1, 2022, with the response to public comments and the errata, describes the final decision of the National Park Service.