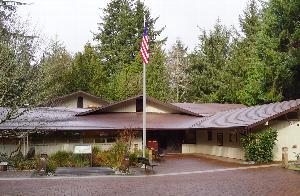 Rehabilitation of the Fort Clatsop Visitor Center and Associated Septic System



After initial public scoping, An Environmental Assessment was prepared in compliance with the National Environmental Policy Act (NEPA). Comments were received, considered and responded to, and the preferred alternative was selected. A Finding of No Significant Impact has been signed and uploaded to this site.

The park will now commence working on the following improvements:

• Renovating the existing restrooms including a new family restroom area.
• Expanding the enclosed entryway to improve visitor orientation and correct accessibility issues.
• Upgrading the energy efficiency of the building by replacing outdated heating and cooling systems, replacing light fixtures, improving the insulation of the building, and replacing some windows.
• Improving safety with fire sprinkler changes and modernizing exits.
• Increasing the storage capacity of the curatorial storage room.
• Abandoning the current septic field and installing a new wastewater system and septic field.


Contact Information
Jon Burpee, Superintendent
503-861-4401

Colby Mackley, Chief of Facilities Maintenance
503-861-4431



The Visitor Center at Lewis and Clark National Park was constructed in 1963 as part of the National Park Service "Mission 66" initiative and underwent a major expansion and renovation in 1991. Numerous safety and accessibility issues have developed that need to be corrected and energy efficiency in its operation can also be significantly improved.