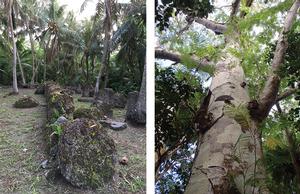 Rota Special Resource Study


As directed by the U.S. Congress, at the request of Representative Gregorio Kilili Camacho Sablan, the NPS conducted a study of Rota's prehistoric and historic resources and limestone forests. The study evaluated the national significance of the area and the suitability and feasibility of designating the area as a unit of the national park system (P.L. 113-291 Section 3051).

The study finds that the prehistoric, historic, and limestone forest resources of Rota are nationally significant and that areas of the island are suitable for inclusion in the national park system. The study additionally finds that limestone forest and Chamorro archeological sites within the study area are conditionally feasible for inclusion in the national park system, dependent on support from the Commonwealth of the Northern Mariana Islands (CNMI) government and the development of a management agreement, support from Rota and CNMI residents, and sufficient funding for park operations.

However, analysis of existing management and several additional management frameworks does not demonstrate a clear need for direct NPS management at this time. The people of Rota have protected their resources for generations through cultural practices, local laws, federal financial assistance, and the dedicated efforts of CNMI agencies. The exceptional integrity of Rota's cultural and natural resources is evidence of the community's impressive and centuries-long tradition of stewardship. The CNMI government is continuing this tradition of resource stewardship while also providing visitor access and information about Rota's significant sites. Because NPS management is not needed, the special resource study concludes that Rota does not meet all criteria necessary to be considered eligible for designation as a new unit of the national park system.

At the conclusion of a special resource study process, the National Park Service, through the Secretary of the Interior, submits its findings to Congress. The study was completed and transmitted to Congress on October 5, 2023. Please click on the "Document List" tab for a PDF copy of the study. A Chamorro language executive summary will be posted on this site in the coming months.


Contact Information
NPS Rota Study Team
Rota_Study@nps.gov



The National Park Service (NPS) is pleased to announce the release of the Rota Special Resource Study, evaluating the unique natural and cultural resources of the island of Rota (Luta) in the Commonwealth of the Northern Mariana Islands (CNMI).