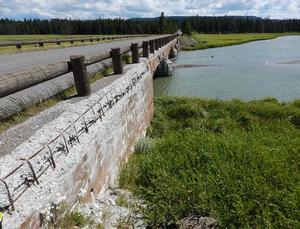 Reconstruct road from Fishing Bridge to Indian Pond


The park considered four alternatives in its EA. The approved action (Alternative B) includes improvements to a 3.6 mile road segment by reconstructing a portion of the East Entrance Road. Yellowstone selected this alternative in order to:

• Address safety concerns and improve vehicle access.
• Reconnect the wetlands of the Pelican Creek Drainage and allow the creek to naturally migrate within its floodplain.
• Provide better nature viewing opportunities along the road.
• Maintain the historic character of roads, bridges, and other historic resources in the project area.
• Minimize the impact to natural resources.
• Provide access for larger, modern vehicles.

The Federal Highway Administration will fund and oversee this project. Roadwork could begin in spring 2018.

When the proposed project is implemented, construction delays would normally be limited to 30 minutes. There may be some temporary road closures. These closures could consist of regular nighttime closures, and/or all day closures lasting up to a few days in duration. A complete road closure late in the 2018 season (October 15 to November 7) is likely to occur.

To review the EA and FONSI click on "Documents List" at the left of this website.



Contact Information
Morgan Warthin
(307) 344-2015



On September 8, 2017, Intermountain Regional Director Sue Masica approved a Finding of No Significant Impact (FONSI) based on an environmental assessment (EA) recommended by Yellowstone National Park superintendent, Dan Wenk. The EA assessed plans to improve the road between Fishing Bridge and Indian Pond.