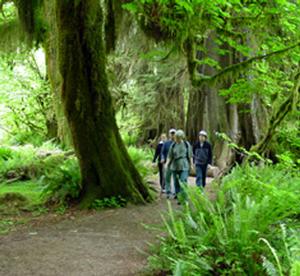 Olympic National Park Proposed Recreation Fee Increases
We are interested in your feedback about possible fee increases proposed for implementation in 2015.
Olympic National Park was established in 1938. Entrance to the park was free during the park's first 49 years; in 1987 a $3 entrance fee was introduced and increased to $10 in 1997. In 2006, the entrance fee was raised to $15, where it remains. This fee provides entry for all occupants in a private vehicle for seven consecutive days at all park entrances. Entrance fees are not charged for persons 15 years and younger or for holders of a variety of passes, including the Interagency Pass, the Military Pass, the Access Pass and the Senior Pass. These passes may be purchased at Olympic National Park when booths are staffed. To learn more about passes that are available, visit
http://www.nps.gov/findapark/passes.htm
.
With few exceptions, National Parks across the United States have not increased entrance fees since 2006. However, in order to provide funding necessary for key projects and programs, all 131 fee-collecting National Park sites are evaluating fee increases.
In August, the NPS released an updated rate schedule for all units that charge entrance fees. The entrance fee at both Olympic and Mount Rainier National Parks is proposed to increase to $25 for a seven-day vehicle pass. Other areas including Bryce Canyon, Zion and Yosemite National Parks are proposing to charge $30 in while fees at smaller parks and recreation areas are set at lower rates.
Eighty percent of the money collected at Olympic is used at Olympic to provide facilities and services that have direct benefit to park visitors. The remaining 20 percent helps support projects in the 270 national park units that do not charge entrance fees.
At Olympic, fees are used to improve visitor facilities like water and wastewater systems, campgrounds, roads, trails and visitor centers. Recent projects include new exhibits at the Hoh Visitor Center, accessible parking spaces and walkways at the Hoh and Quinault visitor centers, trail repairs in the Hoh and Sol Duc valleys and south coast route and wilderness information for hikers and backpackers. Safety and trip planning services offered at park entrance stations and wilderness information centers are also funded through fees.