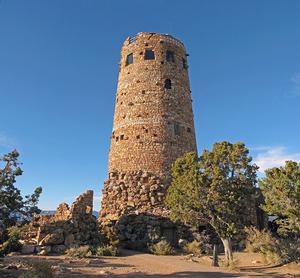 Desert View Inter-tribal Cultural Heritage Site Plan / Environmental Assessment


Located at the southeast edge of Grand Canyon National Park, Desert View functions as the east entrance to the park and provides many visitors with their first introduction and orientation to some of the park's most significant resources - including the Desert View Watchtower (a National Historic Landmark) and its surrounding historic district as well as spectacular views of the Painted Desert and the Little Colorado River gorge. The area also serves as the first stop for information, restrooms, water, food, souvenirs, and gasoline to visitors entering the park from the east along Arizona Route 64 and provides convenient access to some of the neighboring tribal lands.

Given the significance of the site, its infrastructure, and proximity to neighboring tribal lands, the NPS is proposing to transform Desert View from a traditional scenic overlook and visitor services area into an Inter-tribal Cultural Heritage Site that provides opportunities for first-voice cultural interpretation from associated Native American Tribes - including cultural demonstrations - and enhances visitor orientation to both the cultural significance of the site and greater park, as well as information about tourism opportunities on surrounding tribal lands.

The development of this Site Plan is an ongoing cooperative effort, between the NPS and a number of partners, including: Representatives from the Kaibab Band of Paiute Indians, Havasupai, Hopi, Hualapai, Navajo, Zuni, and Yavapai-Apache tribes, the Grand Canyon Association, the American Indian Alaska Native Tourism Association (AIANTA), the Bureau of Indian Affairs, and park concessionaires.


Contact Information
Vicky Stinson, Project Manager, 928-638-7364
Jenn O'Neill, NEPA Specialist, 928-638-7332
Elly Boerke, NEPA Specialist, 928-638-7762



The National Park Service (NPS) is proposing to modify facilities at Desert View, a developed site along the South Rim of the Canyon, in order to increase opportunities for first-voice tribal interpretation, improve visitor orientation, and enhance the overall visitor experience at Desert View in Grand Canyon National Park. The NPS is preparing an environmental assessment (EA), in accordance with the National Environmental Policy Act, to develop and evaluate alternatives for this Site Plan.