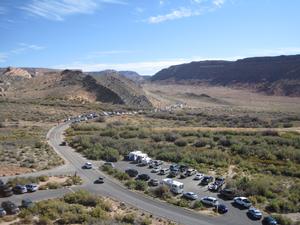 Delicate Arch/Wolfe Ranch Site Plan


Parking is frequently congested, causing visitors to park outside of paved areas and along roadsides, damaging soils and vegetation. This congestion and inadequate parking also frustrates our visitors. There is a need to develop a site plan to help determine specific goals and objectives for the management of visitor use within this area of the park.

Delicate Arch is one of the primary locations in the park visitors want to see when they are in Arches. Daily visitation to Delicate Arch during the peak seasons is approximately 2,000 people and the parking lot is one the smallest of the popular park sites. Current parking capacity of 73 parking spaces is not sufficient for today's visitation.



Contact Information
Planning and Compliance
435-719-2103



The National Park Service (NPS) has prepared an Environmental Assessment (EA) to analyze the effects of implementing site strategies to alleviate parking congestion at the Delicate Arch/Wolfe Ranch trailhead. A Finding of No Significant Impact has been approved by the Intermountain Regional Director on November 3, 2014.