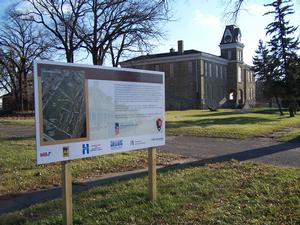 Fort Snelling Upper Post Program Change


The Minnesota Department of Natural Resources (DNR) has requested the National Park Service (NPS) to transfer a 141-acre parcel of Fort Snelling's Upper Post from the Federal Lands to Parks program to the Historic Surplus Property program (Click <Links> in the left hand column for information on these programs). As part of the program change, the DNR and NPS have prepared a Draft Program of Preservation and Utilization (PPU). The Final PPU will accompany the deed and is a binding element of the deed that the NPS must approve. The NPS recognizes that the program change is an undertaking per Section 106 of the National Historic Preservation Act of 1966, as amended, and is seeking public input.

The NPS has sent letters to American Indian tribes, the Advisory Council on Historic Preservation, the Minnesota State Historic Preservation Office and those parties that have shown an interest in Fort Snelling in the past.



Contact Information
John Anfinson
Chief, Natural Resource Management
Mississippi National River and Recreation Area
National Park Service
111 Kellogg Blvd E, Suite 105
St. Paul, MN 55101

651-293-8432
john_anfinson@nps.gov




Situated at the confluence of the Mississippi and Minnesota Rivers, Fort Snelling is a National Historic Landmark. Construction on the fort began in 1820 as a U.S. military frontier post to protect trade and maintain peace along the northwestern frontier. Expansion beyond the walls of the frontier post into the area currently referred to as the Upper Post began in the late 1870s.