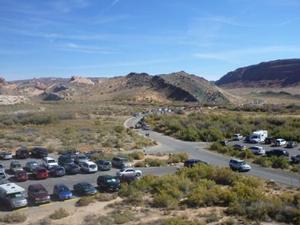 Alternative Transportation Feasibility Study and Congestion Management Strategies


In the park the visitor's experience is one of beautiful views sweeping from the high peaks of the La Sal mountains in the National Forest down to the Colorado River gorge and across varied and beautiful BLM public lands back to the park in the foreground. It is a stunning landscape. However, with this growth in visitation the visitor experience in the park has become one of searching endlessly for a parking place. On most days, from mid-morning to mid-afternoon, parking lots in the park are filled to overflowing and parked cars line the roadsides. Visitors face long waits, disappointment, and frustration instead of the great experience they had expected.

Less obvious but equally important is the fact that as visitors drive throughout the park tailpipe emissions from their cars turn into haze and air pollution which can diminish views and harm plants and animals across the landscape – the very landscape we are charged with protecting.

Can we solve both of these problems? Can we cut air pollution and cut parking congestion at Arches National Park? We hope so, and we've launched the Alternative Transportation System and Congestion Management Study to help find solutions. We hope you'll join us in the effort.

-Kate Cannon
Superintendent, Arches National Park


Contact Information
Planning and Compliance
2282 SW Resource Blvd.
Moab, UT 84532

435-729-2100



In 2010, Arches National Park broke a new record- more than 1 million visitors came to visit the park. In 2011, visitation increased by more than 26,000 visitors than the previous year. This year, 2012, is already shaping up to break last year's numbers! It is wonderful to see the ever growing popularity of Arches National Park and the enjoyment the park brings to more and more people.