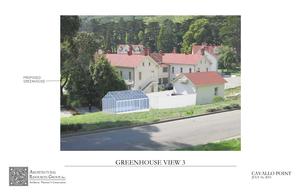 Cavallo Point Lodge Demonstration Greenhouse, Fort Baker


The project site would be a small pad near Building 502, a 1,000 square foot, 1-story brick building - a former electrical substation on the slope between McReynolds Road and Merrill Court ( this sloped area is behind historic Building 601, now rehabilitated for use as reception, meeting, office and gallery spaces, and near historic Building 602, now rehabilitated for use as the Lodge destination restaurant and cooking school).

The area - a historic eucalyptus windbreak between the historic commons buildings and new development zones with contemporary lodging structures - has a history of Army buildings and subsurface and above-ground utility infrastructure.

Although not captured in the NPS Fort Baker Cultural Landscape Report, a historic records review by NPS staff in late 2010 indicates that the Army had constructed a building (estimated footprint of approximately 2,000 square feet) in the lower McReynolds slope behind Building 623 at some time between 1937 and 1955. These plans also indicate a series of pathways to the ends of the building and also explain the existence of several (e) step penetrations of the (e) McReynolds stone retaining wall.

The area adjacent to Building 502 is the Lodge's preferred location for this new structure because of its proximity to existing services and Lodge's restaurant and other commons buildings, while avoiding other areas with more complicated utilities where the now-demolished building previously stood. Utility services would be provided through stub-outs from the adjacent Building 502 and the existing irrigation infrastructure. There may be opportunities over time for small-scale rainwater catchment.





Fort Baker Retreat Group LLC (aka Cavallo Point - the Lodge at the Golden Gate) proposes to construct an approximately 250-500 square foot demonstration greenhouse adjacent to the Lodge's successful restaurant. Containerized beds with imported soil in the new metal & glass structure would enable the Lodge to produce micro-greens on-site, demonstrating the importance of environmentally responsible small-scale agriculture as a component of the Lodge's distinctive and award-winning programming.