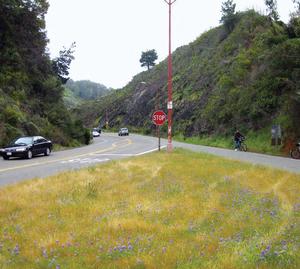 Alexander Avenue Planning Study, Marin County


• FHWA-CFLHD
• NPS-PWR
• GGNRA
• City of Sausalito
• The California Department of Transportation (Caltrans)
• Golden Gate Bridge Highway, and Transportation District (GGBHTD)
• County of Marin

The process began by determining and analyzing existing conditions. In coordination with the key agency stakeholders, the project goal and objectives were developed to address corridor issues and concerns. Potential improvement strategies were then reviewed and strategies that were selected to be carried forward for implementation were summarized. A phased implementation plan of the selected strategies was then developed.


Contact Information
Darren Brown (415) 561- 4933



The Alexander Avenue Planning Study was conducted to identify corridor deficiencies and develop multi-modal improvement strategies for Alexander Avenue from the north end of the Golden Gate Bridge to the Sausalito city limits. The project goal is to identify ways to improve and enhance multi-modal use and access through and within the Alexander Avenue corridor. The study was conducted by the Federal Highway Administration (FHWA), Central Federal Lands Highway Division (CFLHD), in cooperation with the National Park Service (NPS), Pacific West Region (PWR), and the Golden Gate National Recreation Area (GGNRA). The key stakeholder agencies involved in the study were: