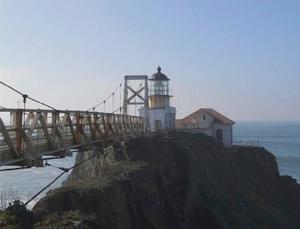 Point Bonita Suspension Bridge Replacement Project
The project proposes to replace the existing pedestrian cable suspension bridge utilizing the existing concrete tower foundations and cable anchor blocks with a visually almost identical structure. The new structure will use the same type of materials as the existing structure but it will be upgraded to be in compliance with existing codes.

The west abutment will require rock stabilization and reinforement. To address this instability engineers have recommended that the bluff be stabilized using two stabilization techniques:

- installing a high strength stainless steel mesh net with tensioned rock bolts of staggered length and pattern; and
- placement of a shotcrete buttress recessed into the existing wedge failure area below the rock overhang on the north facing slope.

The project is scheduled to start in September 2011 and continue for approximately 6 months. During construction the bridge will be closed to the public.

The NPS is interested to learn about any any issues or concerns you may have regarding the project. Understanding these issues and concerns will assist NPS complete the environmental compliance for this project. Your comments can best be incorporated into our decisionmaking if they are received by May 27, 2011.

Comments may be submitted as follows:

- Online here; click on the Document List link on the left, then click on the document, then click "Comment on Document"

- By mail to:
Superintendent
Golden Gate National Recreation Area
Fort Mason, Building 201
San Francisco, CA 94123-1307
Attn: Point Bonita Bridge Replacement Project

Contact Information
Dave Dusterhoff, Project Manager, at (415) 561-4977 or email goga_planning@nps.gov.