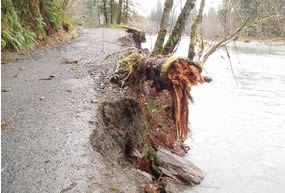 Quinault South Shore and Graves Creek Road Rehabilitation


The NPS will implement a combination of alternatives B and C, based on the concerns and feedback generated through the public review period. The selected alternative will restore and provide sustainable access to the Graves Creek and South Shore roads with the addition of selected improvements that incorporate protective measures for habitat restoration.

The Environmental Assessment (EA) was released on September 12, 2008, for a 30-day public review. The EA was prepared by the National Park Service (NPS) in cooperation with the Federal Highway Administration (FHWA).

The purpose of the proposed project is to restore permanent vehicular access on the Graves Creek and South Shore roads while protecting and restoring natural resource functions; and preserving for the benefit, use, and enjoyment of the people, access to the Quinault Rain Forest.

On December 3, 2007, extreme flooding occurred around the Olympic Peninsula causing damage to the Graves Creek and South Shore roads in the Quinault Rain Forest. Graves Creek Road was severely damaged at eight locations from extremely high water flows in the Quinault River, plugged or washed-out culverts, debris flows, and erosion. The South Shore Road was damaged near the park boundary. The South Shore Road was reopened to the public on April 1, 2008 after emergency repairs were completed. Due to the extent of the damage and repairs needed, the Graves Creek Road remains closed to vehicles.

Repairs will be initiated this summer with the goal of reopening the road to vehicles in early 2010. More information on the construction schedule will be provided at a later date.

Foot, stock and bicycle access is permitted on Graves Creek Road, from the gate located approximately one mile above the intersection with South Shore Road to the Graves Creek trailhead.




Contact Information
Superintendent – Graves Creek and South Shore Road Rehabilitation EA
Olympic National Park
600 East Park Avenue
Port Angeles, WA 98362






The environmental analysis for the Graves Creek and South Shore Roads Rehabilitation, in Olympic National Park has been completed and a Finding of No Significant Impact (FONSI) has been approved.