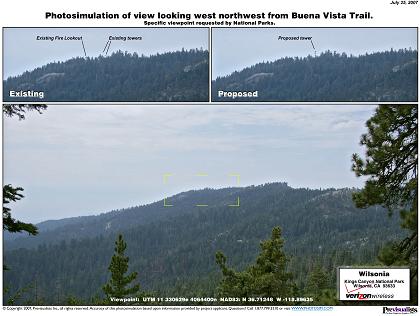 Installation of Verizon Wireless Antenna and Facility at Park Ridge


The NPS is required by the Telecommunications Act of 1996 to consider all applications for the installation of cellular equipment on NPS lands. An environmental assessment (EA) was prepared for the project and was available for a 30-day public review this summer.

The EA analyzed two alternatives, including the no action alternative. The selected alternative is the installation of the telecommunications facility. The telecommunications facility will include an 80-foot-tall monopole tower with antennas, a prefabricated single-story building beside the tower for equipment storage, and a stand-by generator. The tower will provide wireless communication and internet coverage along a portion of the Generals Highway and State Highway 180 in the vicinity of Grant Grove, Grant Grove Village and Wilsonia in Kings Canyon National Park, and to some remote areas within the park and the surrounding Sequoia National Forest.

The NPS is currently preparing a permit to establish operating stipulations and requirements. Construction can commence after the permit is completed, likely in spring 2010.


Contact Information
Superintendent
Sequoia and Kings Canyon National Parks
Attn: Verizon Wireless Project
47050 Generals Highway
Three Rivers, CA 93271



The National Park Service (NPS) has approved the construction of a telecommunications facility on Park Ridge near Grant Grove within Kings Canyon National Park. Pacific West Regional Director Jonathan Jarvis signed a finding of no significant impact statement for the project on August 26, 2009.