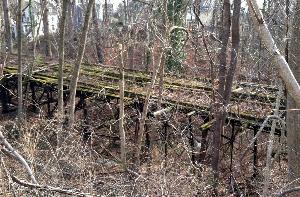 WMATA Trolley Trestle Bridge Demolition


Part of the old Trolley Right of Way is variously owned by NPS-GWMP and WMATA, and by circumstance, a portion of the Wilson Lane Trolley Trestle Bridge is owned by the NPS-GWMP while the remainder of the structure and the Walhonding Trolley Trestle Bridge is owned by WMATA.

The bridges are historic properties that are eligible for listing on the National Register of Historic Places. Built in 1896 for the Washington and Great Falls Electric Railway Company, the bridges were part of the streetcar line that connected Georgetown in the District of Columbia with Glen Echo, Maryland. Streetcar service continued through the first half of the twentieth century and eventually ended in 1960.

In 1997, WMATA acquired the bridges as part of a litigation settlement. In 2018, WMATA and NPS inspected the trolley trestle bridges and determined that they were structurally compromised. WMATA proposes to raze the bridges and, potentially, all associated infrastructure. NPS land would be used for site access. Following demolition, the site would be restored to naturalistic conditions.

The National Park Service will be posting documents concerning this project on this web site. See the contact information below to request additional information.


Contact Information
Megan Bailey, Cultural Resources Specialist for the George Washington Memorial Parkway, 202-438-6641



The National Park Service-George Washington Memorial Parkway (NPS-GWMP) is reviewing a Special Park Use permit request from the Washington Metropolitan Area Transit Authority (WMATA) to demolish the historic Walhonding Road and Wilson Lane Trolley Bridges in Montgomery County, Maryland.