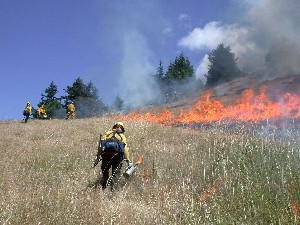 San Juan Island NHP Fire Management Plan and Environmental Assessment
February 8, 2006
From: Superintendent Peter Dederich
Environmental analysis for the San Juan Island National Historical Park Fire Management Plan has been completed and a Finding of No Significant Impact (FONSI) has been released. The Fire Management Plan Environmental Assessment (EA) was initially released for public comment in March 2005.
"Completion of this environmental assessment is an important step in recognizing the role of fire as a natural process to help restore and maintain the cultural landscapes and natural systems at San Juan Island National Historical Park," said Superintendent Peter Dederich. Dederich added that the park has been using prescribed fire in the Garry oak woodland on Young Hill and on a prairie research site below the redoubt at American Camp. "We will continue to use fire as a tool to further park restoration objectives," Dederich said. "At the same time we will work to reduce the risk of wildfire in the park as a whole, and always with the paramount goal of providing for public and employee safety and the protection of park and neighboring property and natural and cultural resources."
The fire management plan allows park managers to employ many different resource treatments depending on project needs. All wildfires will be suppressed immediately upon detection. Mechanical fuel reduction activities will be used to reduce the risk of wildfire to life and property and help restore natural vegetative conditions. Prescribed fire will be used judiciously in conjunction with mechanical fuel treatments to assist in the restoration and the maintenance of park natural systems and cultural landscapes.
The EA examined effects to a wide range of resources, including air, water, soil, vegetation, wildlife, threatened and endangered species, cultural resources, socioeconomic values, human health and safety and visitor experience.
Interested persons may review the Fire Management Plan FONSI, along with the March 2005 Environmental Assessment, by clicking on "Management Docs" at the San Juan Island National Historical Park web site, www.nps.gov/sajh . The document may also be viewed at the National Park Service park planning web site,
http://parkplanning.nps.gov
; simply choose "San Juan Island NHP" from the list of parks. A copy of the FONSI may be requested by calling the park at (360) 378-2240.
Sincerely,
(signed)
Peter Dederich
Superintendent
San Juan Island National Historical Park
Contact Information
Bill Gleason
Chief of Resources Management
San Juan Island National Historical Park
P.O. Box 429, Friday Harbor, WA 98250
Tel: 360-378-2240
Email: bill_gleason@nps.gov