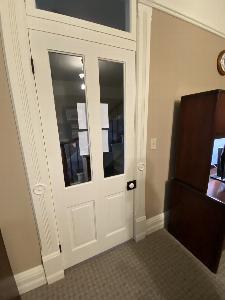 Add sliding deadbolt locks to historic doors in the Rosenwald/Lyon House (HS-08)


The doors open to the front hall near the front door and the conference room used by the Superintendent. Invited visitors can see the outside of the doors, but should not see the locks, nor have access to them.


Contact Information
Brad Duke, 217-391-3230



To meet requirements for staff to count and document donation and fee monies, they must be in a locked room. The office space to be used, in the former front parlor of the circa 1860 Rosenwald/Lyon House, has two historic doors, but the locking hardware is ineffective and does not meet the requirement. To correct this, metal sliding deadbolt locks, similar to the historic locks in the Lincoln Home, will be surface mounted to the doors. The locks will not be accessible from the outside of the office and will only be visible from inside the office, which is not open to the public. The doors are original to the frames, but the house had already been restored by the city of Springfield when acquired by the NPS, and there is no documentation on what, if anything, was changed in the restoration.