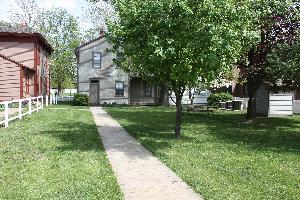 Remove wooden boardwalks between houses and from back door of Rosenwald House (HS-08) to alley. Replace back walk with stamped concrete


The gate will be removed and replaced with solid cross pieces and the park's standard vertical white painted wooden boards to blend in with the rest of the fence. The in-between boardwalk materials will be removed and the space filled with dirt and grass seed. The new concrete walk will be tinted and stamped to mimic a dark wood.


Contact Information
Jason Taylor, 217-391-3235



Non-historic wooden boardwalks run between the Dean House (HS-13), through a non-historic gate in the fence between houses, to the back door of the Rosenwald/Lyon House (HS-08). Another non-historic wooden boardwalk runs from the back door of the Rosenwald/Lyon House to the alley west through the backyard. The boardwalk between houses and the gate access will be removed. The backyard boardwalk will be replaced with stamped concrete to mimic wood as a test for suitability for the rest of the site. There is no historical information informing the appearance or location of either boardwalks or a gate between the houses. These were originally built in the late 1980s as a convenience for staff using the buildings.