Project Links
A comment period for this project closes Sep 30, 2023:
Days, Hours, Min.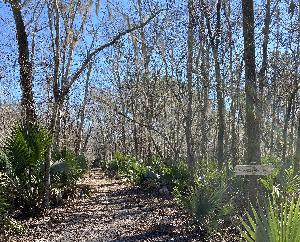 Trail Improvements at Barataria Preserve


"Hurricane Ida caused extensive damage to Barataria Preserve's trails and boardwalks at Jean Lafitte National Historical Park and Preserve," said Rebecca Lasell, deputy superintendent. "Public input is important to us in planning for the best, most sustainable ways to restore visitor services to these areas."

The National Park Service (NPS) proposes to improve the trail system in the Barataria Preserve as funding allows by:
• Repairing hurricane-related damage to specific boardwalks and trails.
• Rebuilding damaged boardwalks at a higher elevation with rails with sustainable construction materials for greater resilience to flooding, sea level rise and land subsidence.
• Removing trail segments that are often flooded, allowing these to naturally revegetate and return to a natural state.

The meeting will occur on September 14, from 3 to 7 p.m. at the Preserve's Education Center, located across Highway 45 from the Barataria Visitor Center. Look for signs pointing the way. The public is invited to attend any time during the open house informational meeting, where NPS staff will be present to answer questions.

Barataria Education Center
Across the street from the Barataria Visitor Center (see signs)
6588 Barataria Blvd.
Marrero, LA 70072

No final decisions have been made regarding what trails will be rebuilt. Given the enormous challenges from increasing storm frequencies and intensities and rising sea levels to maintain the existing boardwalks, the park would like to have a smaller proportion of the trail system on boardwalks and, over time, transition to more of the trails being located on the higher grounds of the natural levees. The Architectural and Engineering Design phase of the project has begun. Construction is expected to start in May 2024 and will be phased, meaning that not all boardwalks will be closed to the public at the same time. As an update to our previous newsletter, the rebuild of Ring Levee Trail and Christmas Road is almost complete and is expected to reopen in fall 2023.

The National Park Service is requesting your input on these proposed Trail Improvements. We will be accepting comments through September 30, 2023.

More information and maps are available in the newsletter. To see the newsletter, please click on the Document List on the left.

To comment, please click on Open for Comment on the left, and enter your comments.

Please note that your entire comment, including your personal information, may be made publicly available at any time. Although you can request that we withhold your personal identifying information from public view, we cannot guarantee that we will be able to do so.


Contact Information
Superintendent
Attn: Barataria Trails Update
419 Decatur Street
New Orleans, LA 70130



Jean Lafitte National Historical Park and Preserve will host an open house and public information session on September 14, 2023, on proposed repairs to the Preserve's trail system.