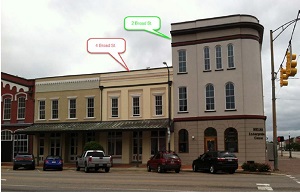 Expand Selma Interpretive Center and Exhibits


Both buildings are owned by the City of Selma and rehabilitation work is being completed via a Cooperative Agreement under the authority of the National Trail System Act 16 U.S.C. ss. 1246(h)(1). Congress appropriated Line Item Construction funds for the expansion in fiscal year 2017 and recently (2019) NPS staff selected a preferred alternative for the expansion.

The National Park Service encourages you to submit comments on this project by October 30, 2019 by clicking on the "Open for Public Comment" link on the left side of the screen.


Contact Information
Hillary Conley, 334-724-6033



The Selma to Montgomery National Historic Trail site plans to coordinate with the City of Selma to rehabilitate the historic buildings located at 4 Broad Street and 2 Broad Street in order to expand the interpretive facilities of the Selma to Montgomery National Historic Trail. The rehabilitation proposes structural improvements at 4 Broad Street to provide universal accessibility, a theater for 100 people, exterior rehabilitation to the floors and roof, fire suppression, and enhancement to mechanical, electrical, and plumbing system to support the improvements.