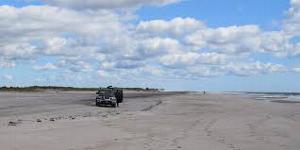 Fire Island NS Pre-NEPA Off Road Vehicle Driving Regulation and ORV Management Plan
Background:
Since the establishment of Fire Island National Seashore (Seashore) in 1964, the development, access, technology, and use of Fire Island has dramatically changed, but the off-road vehicle (ORV) regulations in place to protect the Seashore's resources have not. Currently, the Seashore manages ORV driving based on 1987 driving regulations and issues driving permits via Special Use Permits for residents and other services. The Seashore is taking a hard look at the existing regulations to identify where regulations can be changed in order to create a more efficient and less burdensome driving permit program for both the NPS and community members. Through this process, a path forward will be identified for a more formal regulation change and NEPA process.
For information on the current proposal open for comment starting April 18, 2022, please click on "Open For Comment" on the left navigation bar.
A link to the virtual public meeting recorded on 5/5/2022 can be found here:
https://vimeo.com/708834478
Contact Information
Questions can be submitted to:
fiis_information@nps.gov
Note: This email is provided for questions only. Official comments on the ORV program will not be accepted via email.
The National Park Service (NPS) is requesting public input on the Off Road Vehicle Management program for the Fire Island National Seashore. This effort aims to evaluate ORV use at the Seashore and the existing ORV regulation to allow for appropriate vehicular access while protecting park resources and a safe visitor experience. In addition, the NPS plans to revise the regulation to address changes to resources and use on Fire Island since the rule was implemented in 1987. The NPS will be accepting public input on a preliminary proposed action and potential impacts from April 18 to May 20, 2022.