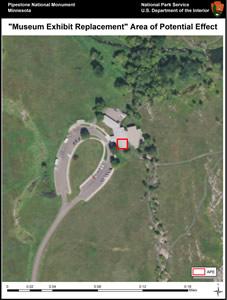 Remodel Museum and Replace Exhibits To Convey American Indian Significance And Increase Visitor Understanding
November 1, 2018
Dear Reader:
Thank you for your interest in Pipestone National Monument. The park is planning to replace museum exhibits in the monument Visitor Center, which is a historic structure. The new exhibits will incorporate American Indian Tribal perspectives on the significance of the quarry and related spiritual practice. The current museum exhibits were designed and installed during construction of the Visitor Center in 1958. Under Section 106 of the National Historic Preservation Act, replacing the museum exhibits will have an adverse effect on the historic Visitor Center, and we welcome your comments on ways to mitigate those impacts.
Since 2012, Pipestone National Monument has been working with the National Park Service's Harpers Ferry Design Center, contractor Pacific Studio, the park's 23 affiliated American Indian Tribes, and other subject-matter experts to develop plans for the new exhibit. Coordination with Tribes has been ongoing throughout the exhibit planning process, and this collaborative effort will continue.
Demolition of the existing museum space will remove all exhibits, exhibit casings, wall treatments, light soffits, floor coverings, and one diorama. Exhibit artifacts will be returned to the collections storage space. Any privately owned items on loan to the monument will be returned to the owners. Electric wiring, outlets, and new lighting will be installed.
The Area of Potential Effect includes the 1,400-square foot museum gallery space in the front, southwest side of the Visitor Center. No archeological or ethnographic resources will be affected. As a Mission 66-style building, the Visitor Center is an eligible contributing element of a National Register of Historic Places-listed cultural resource. As described in an updated draft National Register form (Catton and Krahe 2016:29), the Visitor Center features display historic integrity: "...an open floor plan, ease of orientation, spacious voluminous lobby area with open-beamed ceilings; decoratively painted wood light troughs with aluminum dual spots; and original interpretative displays are significant features in the interior of the structure." Stipulations for mitigating adverse effects to the historic structure interior are being prepared with input from the Minnesota State Historic Preservation Office, the Tribes, and the general public.
We appreciate you taking the time to review the documents related to this project. Your comments on ways to minimize adverse effects to historic elements of the Visitor Center are welcome, as well as any other comments you wish to provide. Please submit comments by December 31, 2018 in writing to the address below or by visiting
http://parkplanning.nps.gov/pipe1
, the National Park Service website for the Planning Environment and Public Comment (PEPC) system. You may also provide comment on the using the "Open for Comment" link on the left menu.
Sincerely,
Lauren Blacik
Superintendent
Pipestone National Monument
36 Reservation Avenue
Pipestone, Minnesota 56164-1269
Contact Information
Lauren Blacik, 507-825-5464