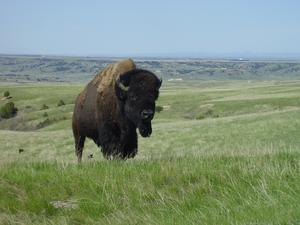 North Unit Bison Resource Stewardship Plan / Environmental Assessment
The 1968 expansion created the South Unit of the park, which comprises tribal lands that are part of the Pine Ridge Reservation. Unless otherwise stated, in this document the term "park" refers only to the North Unit of Badlands National Park.
Badlands National Park is one of nine National Park Service (NPS) units that currently support bison (Bison bison) and is also one of the most recent to participate in bison restoration. Substantial numbers of bison historically inhabited the grasslands within the park. In 1963-1964, 50 bison from Theodore Roosevelt National Park and 2 from Fort Niobrara were introduced to Badlands National Park. An additional 20 bison from Colorado National Monument were introduced to the Badlands National Park herd in 1983. Badlands National Park currently has a management goal of maintaining 500-700 bison in the Sage Creek Unit of the Badlands Wilderness area. The herd is culled opportunistically, and surplus bison have been distributed through agreements to other native tribes through the InterTribal Buffalo Council or the neighboring Oglala Sioux Tribe. None of the alternatives in this plan would alter the terms of these agreements.
The purpose of this plan was to explore options to expand the current geographic bison range to other areas within the North Unit of Badlands National Park. Expanding the geographic bison range in the North Unit would enable the National Park Service to protect the genetic integrity and health of the conservation bison herd in the North Unit, support the health of the mixed-grass prairie ecosystem, and provide appropriate visitor opportunities to view the herd and understand its ecological and cultural importance.
For more information, see
http://www.nps.gov/badl
Follow us on social media!
Facebook: Badlands National Park (www.facebook.com/badlandsNPS)
Twitter: @badlandsnps
Instagram: @badlandsnps
Contact Information
Badlands Contact: Eddie Childers, 605-433-5263
Badlands National Monument in South Dakota was recognized as a significant area when the United States Congress authorized its establishment in 1939. The monument encompassed approximately 110,000 acres of the South Dakota Badlands. The monument was expanded by 133,000 acres in 1968, and it was redesignated as Badlands National Park in 1978. The park's outstanding scenic values, its importance to the science of paleontology, and its natural resources were, and continue to be, its signature features.