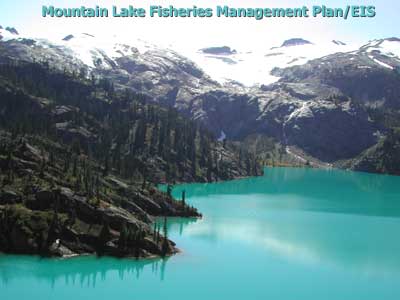 Administrative History of Fish Stocking Controversy
Mountain lakes fisheries management has been a contentious issue ever since North Cascades National Park Service Complex was established in 1968. Questions over NPS jurisdiction and management authority, conflicting policies between the state and the NPS, and lingering misperceptions on the part of various stakeholders have all contributed to the controversy. NPS Historian David Louter, Ph.D, has researched and written the following paper that clarifies the administrative history of fisheries management in the Complex. We hope that it will help all interested parties understand the history of the fish stocking controversy and the challenges the NPS faces in securing a lasting resolution.
The Washington State Trail Blazers have also researched the administrative history of the fish stocking controversy and written a whitepaper entitled The Historical Case for Fish Stocking in the North Cascades National Park. At the request of the Trail Blazers (www.watrailblazers.org), and to meet the stated EIS objective of "Provid[ing] full and open access to available information to the public and interested parties", the paper is also available for downloading.

Document Content:

Administrative History of Fish Stocking Controversy
(157.3 KB, PDF file)

Historical Case for Fish stocking in the North Cascades
(184.2 KB, PDF file)
Disclaimer:
Links within the above document(s) were valid as of the date published.
Note:
Some of the files may be in PDF format and can be viewed using the Adobe Acrobat Reader software.
You may download a free copy of Acrobat Reader from Adobe Systems.