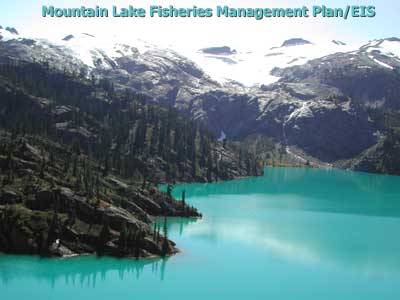 Draft Mountain Lakes Fishery Management Plan/EIS Document
North Cascades National Park Superintendent Bill Paleck has extended the public comment period on the draft Mountain Lakes Fishery Management Plan and Environmental Impact Statement (Plan/EIS) until September 15, 2005. This is to give interested parties more time to provide written comments on the lengthy document.
This Draft Mountain Lakes Fishery Management Plan/Environmental Impact Statement Volume I is organized by the chapters listed below. Each of chapters is its own file and contains its own "mini" table of contents on a divider page to give you an idea how the chapter is organized.
Volume II of the document contains the comprehensive appendixes for Volume I.
This document contains two tables: one describing management actions for each of the 91 lakes and another describing backcountry overnight use for the lakes in the study area.
Maps for the Draft Fishery Management Plan/EIS can be sent to you by request. The two maps represent the 91 Lakes in the Complex with a History of Fish Presence and Backcountry Overnight Use for the Study Area. To request a set of these maps, contact Roy Zipp, Environmental Protection Specialist at (360)854-7313.
Comment Period:
Closed May 27, 2005 - Sep 15, 2005

Document Content: