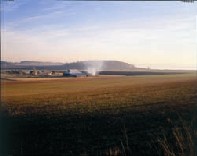 Ebey's Landing National Historical Reserve Final General Management Plan and Environmental Impact Statement
This final general management plan and environmental impact statement is presented in six chapters and includes appendices, a bibliography, and an index.
The summary at the beginning of hte document provides a synopsis of this document.
Chapter 1 sets the stage by describing the development of Ebey's Landing National Historical Reserve and Trust Board, the role fo the four partners, and important actions that have occurred since establishment of the Reserve. It also provides the Reserve's purpose, significance, and desired future conditions that were developed with public involvement during the planning process.
Chapter 2 describes the purpose and need for this GMP/EIS.
Chapter 3 provides detailed information on the environment, which could be affected by the decisions contained in the individual management alternatives.
Chapter 4 describes three management alternatives, including the Preferred Alternative of the National Park Service and Reserve Trust Board. The alternatives represent reasonable sets of management decisions that are considered within the parameters of the GMP. The end of this chapter includes two summary charts: Summary of Actions for Each Alternative and Summary of Impacts.
Chapter 5 describes the impacts of each alternative on resources.
Chapter 6 summarizes public involvement and the consultation process that was an integral part to the creation of this final GMP/EIS. Chapter 6 also includes summaries of public comments received by the NPS and scanned comment letters received on the draft GMP/EIS by agencies and organizations.
The appendices provide more detailed information, including a glossary, which some readers may find helpful when reviewing the main text of the document.
A limited number of additional copies of this final GMP/EIS are available from the mailing address below. In addition, this final GMP/EIS is available at the public library in Coupeville, Washington.

Document Content: