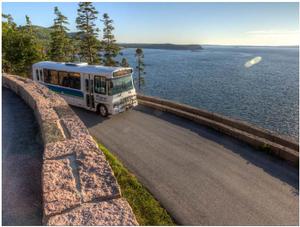 Spring 2018 Acadia National Park Draft Transportation Plan/EIS Newsletter
This spring 2018 newsletter summarizes the Draft Transportation Plan and Environmental Impact Statement (Draft Plan/EIS) for Acadia National Park released for public review and comment until June 26, 2018. This newsletter summarizes the purpose and need for the plan, planning goals, the alternatives being evaluated, and the effects of each alternative analyzed in the Draft Plan/EIS.
The National Park Service encourages your review and comment on the alternatives outlined in this newsletter, especially the preferred alternative, in the full Draft Plan/EIS. We request feedback through this website, by mail, or in person.
We will be hosting two public information meetings in mid-May in Bar Harbor and Prospect Harbor. There will also be a virtual meeting online hosted by Friends of Acadia. Three community libraries on Mount Desert Island will host information sessions. Details of these meetings can be found under the Public Meetings tab for this project.
We appreciate your time and thoughts on the complicated issues related to managing transportation and visitor use in Acadia National Park. Your comments will be carefully considered. The final plan may include one or a combination of strategies outlined in the alternatives. A decision and final Transportation Plan is expected in late fall or early winter of 2018.
Thank you for your interest!

Document Content:

ACAD_4_2018_newsletter_508_Reduced.pdf
(3.0 MB, PDF file)
Disclaimer:
Links within the above document(s) were valid as of the date published.
Note:
Some of the files may be in PDF format and can be viewed using the Adobe Acrobat Reader software. You may download a free copy of
Acrobat Reader
from Adobe Systems.