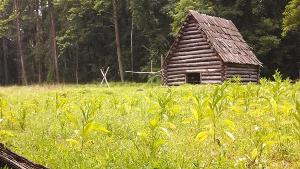 South Turkey Run Park Concept Plan
South Turkey Run Park is an approximately 70-acre site operated and maintained by the George Washington Memorial Parkway, a unit of the National Park Service. In 2019, the National Park Service sought public input on a vision and initial concepts for the future use and enjoyment of South Turkey Run Park. Through public meetings and comments sent online and by mail, we received helpful ideas and feedback from stakeholders, neighbors, and visitors about the park. The information we received from public comments was used to create the South Turkey Run Concept Plan.
The Concept Plan outlines both existing conditions and the steps needed to move toward implementation. The document describes current conditions; considers the existing structures, both permanent and temporary, for adaptable reuse; and identifies environmental constraints. It also identifies potential partnerships, the regulatory framework for implementation, and potential funding sources. Finally, the Concept Plan establishes priorities for the NPS, such as installing new park signage, adapting existing NPS systems to allow reservations, and identifying partners for implementing each concept.
We would like to again thank each of you who shared ideas during the public comment period. We appreciate your continued interest in South Turkey Run Park, and while the pandemic has slowed our concept selection, we remain committed to the project and will keep you up to date on our progress and next steps. As always, we invite you to enjoy the park's trails, especially with spring weather upon us, and we look forward to being back in touch on future improvements to South Turkey Run Park.