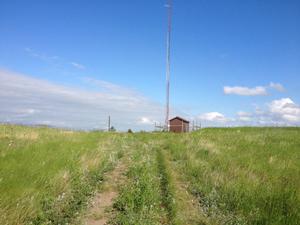 Environmental Assessment: Communication Tower Replacement and Co-location in Theodore Roosevelt National Park
This environmental assessment (EA) was prepared to evaluate the potential impacts on the physical and human environment that could result from the proposed action and alternatives to that action. It was prepared based on the results of internal and external scoping activities that concluded in April of 2015. The proposed action is the issuance of a right-of-way permit by the National Park Service (NPS), Theodore Roosevelt National Park (TRNP) to Cellco Partnership and its controlled affiliates doing business as (dba) Verizon Wireless (Verizon Wireless) to replace an existing NPS 220-foot tall, guyed radio tower with aviation safety lighting (currently supporting NPS and United States Forest Service [USFS] radio repeaters) with a 190-foot, guyed telecommunications tower without aviation safety lighting (to support NPS, USFS and Verizon Wireless communications equipment). The proposed action would also replace an existing pre-fabricated equipment shed with a larger shed to support the new tower.
The proposed action would reduce tower proliferation around the park and allow critical park communications to continue while eliminating some adverse environmental impacts associated with the parks higher, lighted tower. Should the proposed action not be selected, the current NPS tower would remain and Verizon would then construct their own tower on private land in relative close proximity to the parks tower, further impacting the scenic viewshed experienced by park visitors.
The EA consists of three files: The NU Communication Tower EA file contains the main body of the EA including the project purpose and need, proposed action and alternatives, affected environment, environmental consequences, and project coordination and consultation. Appendix A contains drawings showing the existing and proposed tower location and design. Appendix B presents numerous photographs of the site and access road to provide reviewers a graphic representation of the vegetation, terrain, and visual impacts referred to in the text. A fourth file, Tower coverage with park boundaries, shows current and expected cellular coverage levels. Because a tower would be constructed under both alternatives, (Preferred or no-action), cellular coverage within the park and region would improve to similar levels.
If you wish to comment on the EA, you may mail comments to the name and address below or submit them electronically via the project website at
http://www.nps.gov/thro
. This EA will be on public review for 30 days. Please note that names and addresses of people who comment become part of the public record. If you wish us to withhold your name and/or address, you must state this prominently at the beginning of your comment. The entirety of any submission from an organization, business, or individual identifying himself/herself as a representative or official of an organization or business will be made available for public inspection.
Comment Period:
Closed 09/28/2016 - 10/31/2016

Document Content: