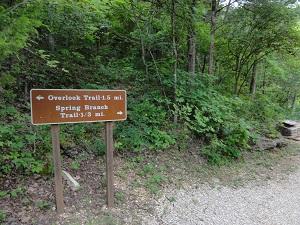 Roads and Trails Management Plan and Environmental Assessment for Ozark National Scenic Riverways June 2021
The National Park Service is seeking public input to guide the development of a Roads and Trails Management Plan at Ozark National Scenic Riverways. The completion of this plan is a crucial milestone for the park that will help ensure present and future generations can access and enjoy the crystal clear spring-fed rivers, rocky bluffs, forests, karst landscape, caves, and historic sites that make this place special.
The draft Roads and Trails Management Plan includes detailed maps and an environmental assessment illustrating a No-Action Alternative and two Action Alternatives. The No-Action Alternative reflects a continuation of current management practices, as established in the park's 2014 General Management Plan. The two Action Alternatives were informed by public and stakeholder feedback gathered earlier in the planning process and represent alternative approaches for addressing issues identified in the plan, while also meeting desired conditions for managing the park's roads and trails. The National Park Service has identified Alternative B as the preferred alternative for implementation.
Download and review the draft Plan and maps by clicking the Document List in the menu to the right. Then click on Open for Comment to submit your feedback.
We will be accepting feedback between June 18 and August 18, 2021. We would like to hear your thoughts on the alternatives presented in the plan, the analysis of their impacts, and any other concerns or ideas you might have. Your comments will help us ensure we have the best plan possible.
An online "StoryMap" is available to provide an overview of the draft plan and the corresponding maps at
https://arcg.is/1Oja9b
.
Contact information:
Ozark National Scenic Riverways Roads and Trails Planning Team
404 Watercress Drive
P.O. Box 490
Van Buren, MO 63965
(573) 323-4236
Comment Period:
Closed Jun 17, 2021 - Aug 18, 2021