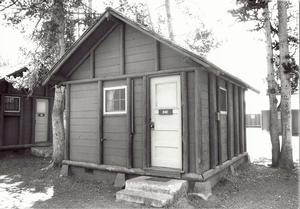 Old Faithful Cabin Repurposing and Dormitory Construction Environmental Assessment
Yellowstone National Park is considering returning 67 cabin units in the Old Faithful Lodge Area to visitor use. Since 1999, cabins previously used for visitor lodging have been used as concessioner employee housing. If Alternative B were implemented, there would be potential to increase approximately 134 overnight visitors each night at Old Faithful during the summer season. To mitigate for the employees who would be displaced, a new dormitory in the Old Faithful Administrative Area would be constructed.
This Environmental Assessment (EA) evaluates three alternatives; Alternative A - No Action, Alternative B – Repurpose Cabins and Construct Dormitory, and Alternative C – Existing Conditions. The no action alternative would follow the decisions of the 1985 Development Concept Plan for the Old Faithful area which calls for removal of all the Old Faithful Lodge Cabins and construction of a new dormitory for concessioner employees in the Old Faithful Administrative Area. Alternative B would amend the 1985 Old Faithful Development Concept Plan decision to remove all Old Faithful Lodge Cabins and addresses repurposing the cabins to provide an increased number of affordable visitor lodging units at Old Faithful and construction of a new concessioner employee dormitory with additional parking, separating employee housing from high visitor use areas, enhancing safety and improving accessibility of pathways to the cabin area, as well as rehabilitating the interior of the cabin units. Alternative C describes the existing conditions if cabins are kept as employee housing and no concessioner employee dormitory was constructed in the Old Faithful Administrative Area.
Comment Period:
Closed 01/26/2012 - 02/26/2012