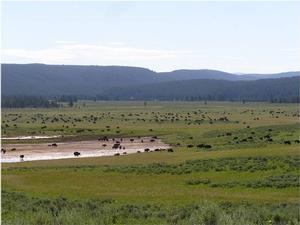 Final EIS for Remote Vaccination Program to Reduce the Prevalence of Brucellosis in Yellowstone Bison
The National Park Service has completed a final environmental impact statement (EIS) to evaluate whether to implement remote-delivery vaccination of Yellowstone bison to decrease the prevalence of brucellosis, a disease that can induce abortions in bison, elk and cattle. This evaluation was directed by the 2000 Record of Decision for the Interagency Bison Management Plan (IBMP).
The EIS considered three alternatives: Alternative A- -No Action, Alternative B- -Remote Delivery Vaccination for Young Bison Only, and Alternative C- -Remote Delivery Vaccination for Young Bison and Adult Females. The NPS has identified Alternative A- -No Action, as the preferred alternative.
The publication of the Environmental Protection Agency (EPA) notice of availability of this Final EIS in the Federal Register will initiate a 30-day waiting period before the Regional Director of the Intermountain Region of the NPS will sign the Record of Decision, documenting the selection of an alternative for implementation.

Document Content:

BisonRemoteVaccination_FEIS1.pdf
(6.5 MB, PDF file)
Disclaimer:
Links within the above document(s) were valid as of the date published.
Note:
Some of the files may be in PDF format and can be viewed using the Adobe Acrobat Reader software.
You may download a free copy of Acrobat Reader from Adobe Systems.